"RAISE YOUR WORDS, NOT YOUR VOICE.  IT IS RAIN THAT GROWS FLOWERS, NOT THUNDER."
Insights and  Stories from Enterprising Mavericks
who challenge the status quo 
Launching 5th October 2021
Business Mavericks shares stories and distilled insights from the widest cohort of Maverick innovators to date. Over 100 hours of interviews with 99 gamechangers disrupting their industries in their own unique ways.
Mavericks like:
Soren Holm, who's the biggest kid I know [not surprisingly he's VP of Future Labs LEGO].
Rana El Kaliouby, whose research into how facial coding technologies can ease autism spectrum disorders became the basis for an automated facial expression recognition technology.
Shubendhu Sharma, an eco-entrepreneur, who merged his knowledge of KPI's from working at Toyota to growing 100 year old native forests in 4 years.
Pamela Grossman,  Getty Images Lean In Collection team who changed the way the world saw women; by creating a library of images devoted to the powerful depiction of women, girls and the people who support them.
The big data is out there about Mavericks.  The thick data curated are the stories the Mavericks share of their lives, why they approach business like they do, what success looks like to them and the challenges they've faced along the way to name a few. Stories we can all learn from.
And perhaps inspire every kid that get's told,
"Why can't you just be like everyone else?"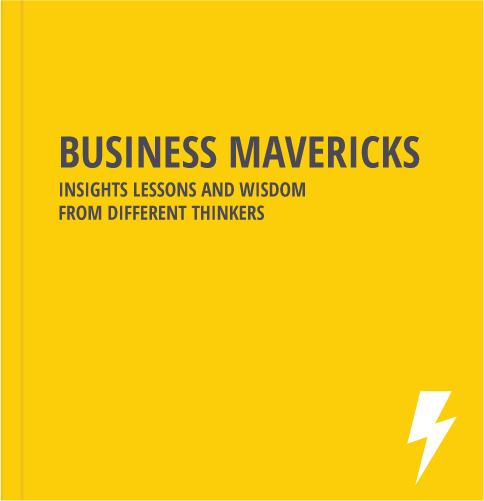 "I LOVE that you're doing this!
Though you do have some names people recognize I must say, I love that most of the names of the people you're talking to are not public figures. Works like this so often rely on the recognizable names that what ends up happening is they all look the same. I think it's inspiring to hear about the true mavericks who are out there doing it – not just talking about it. They are the true inspirations. I wish you good luck with the project and hope you'll let us know when it's done so we can read some of the amazing stories you're collecting. Really good stuff. I'm proud to march side by side with you to inspire people to do what inspires them. Inspire on!"
— Simon Sinek, Leadership Guru and Author
"Pretty cool that you learn a different approach to innovation & by interviewing a lot of people to get a feel for what's going on out there and what makes innovation tick in a way, and that's what unique…that got me intrigued a bit….greatest most fun and energising interview I've ever had."
— Soren Holm VP Future Lab, LEGO
"I've been interviewed for 60 Minutes and Bloomberg, but this is the most creative. I can't wait to see what you come up with."
— Marty Cooper Chairman & Co-Founder Dyna LLC
"It's fine to be a square peg in a round hole, it's fine to be the one's who are there to challenge, to push, but what I love about your book is you're actually saying how, because those people didn't know how Picasso thought, or don't know how Ted Turner thinks or don't know how Maria Callas thought, and all those people, that's what you're doing here which is very special; you're trying to unlock the formula."
— Mike Abel Chief Executive and Co-Founder M&CSaatchi Abel
"…sounds like an innovative project, and admirable that you donate 100% of profits to helping children."
—Dan Millman, author, Way of the Peaceful Warrior